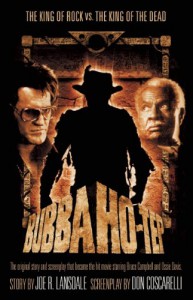 I am doing a quick giveway with Bubba Ho-Tep (Kindle version) to celebrate New Year and to say Goodbye to low taxes in EU countries e-book heaven. This giveway ends tonight at 10 pm (Finnish time, which is in 7 hours from now).
5 fastest and lucky personas will receive this awesome read, which is also an amazing movie. If you want to enter, let me know in the comment section and I will ask your Amazon account email through BL messages (and I need the information before 10 pm my time because you know, no low taxes tomorrow, no e-books).
Batgrl Commentary:
I completely forgot that there's a book version of Bubba Ho-Tep - I've just seen the cheesy Bruce Campbell film.
And so, probably because I have all these other things I really need to do today - I made a Bruce Cambell reading list. (Let me know if I've missed anything - still adding books.) I only own two things on it, but it's reminded me that I've been meaning to read If Chins Could Kill for ages.
Also I'm now having a nostalgia moment of wanting to watch Army of Darkness but it's tucked away in storage. But thanks to youtube I'm pretty sure I can get a hit of the scenes that'll cure that ill.